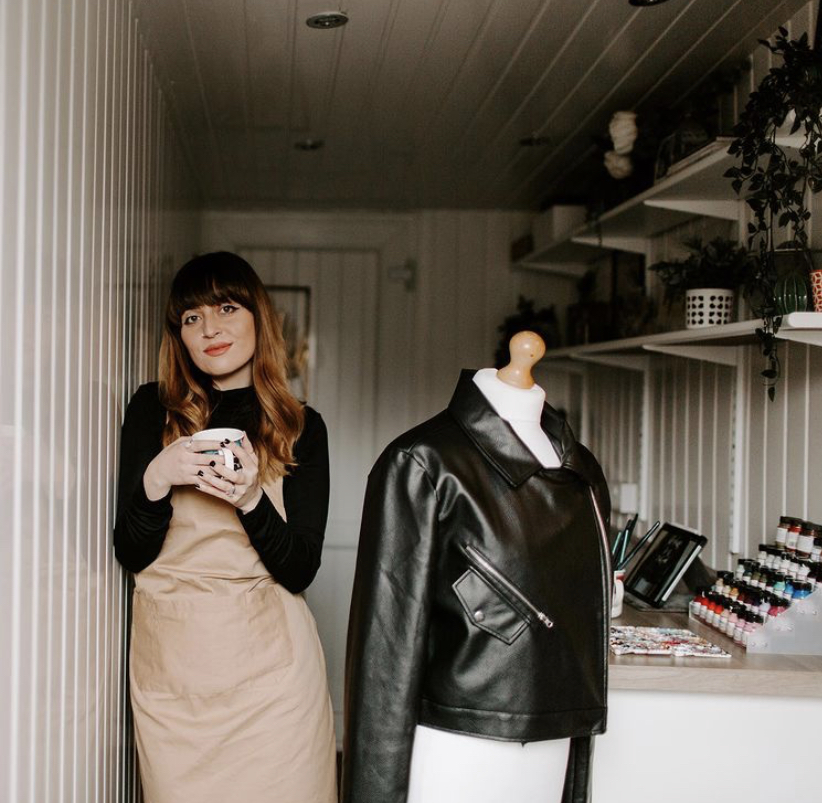 I'm Nathasha! I am an artist and wedding stationer based in the Wirral, UK.
I started my creative business back in 2017 after my own wedding when I was unable to find the unique designs I wanted. Everything I create has you in mind, no two designs are ever the same! I love to create eye-catching designs which are unique and not seen anywhere else with lots of beautiful finishing touches so that your guests will get a real sense of who you are and what your day will bring.  I work very closely with my clients to make sure I bring their stationery dreams to life and create art which can cherished for years to come!
To get in touch with me, please click the contact tab below and I'll come back to you within 48 hours. Thank you!
Meet Nathasha
Contact Me
"Natasha was so lovely and helpful in creating my dream wedding leather jacket. After having to postpone our date due to Covid she was so understanding and made it stress free for me. I can't wait to wear my beautiful jacket on my wedding day next weekend."
"Natasha is extremely talented and so easy to work with! She created a design for our save the dates and invitations and they are EXACTLY what we had envisaged. They're almost too good to send out to the guests! Not only has she been working on our stationery, but she has created bespoke designs and hand painted leather jackets for the females in the bridal party... we can't wait to wear them on the wedding day. Thank you again Natasha and if you're browsing this page and debating what to do ... stop your searching and drop Mama Inc. a message!"
"Natasha is so talented and amazing! She took my vision for my leather jacket and completely brought it to life. I am so happy with her work and cannot recommend her enough. The communication was easy, and she answered all of my questions. I can't wait to wear my jacket on my wedding day and cherish it forever."
"I couldn't rate Natasha more ! What a creative genius she is. Her communication is faultless and each request I asked was never too much. You can see her passion for what she does in her work, and she takes great pride in perfecting each piece for her customers. Natasha's person-centred approach to her work is what makes her stand out from other suppliers. She is kind, friendly, patient and her creative flare shines through each masterpiece she creates. Thank you so much for my jacket and thank you for risking all to pursue you dream and making dreams come to life through your art."
"I contacted Natasha last year about designing my dream wedding invites... and boyyyy did she deliver! Natasha is so talented at what she does, it was so easy talking about ideas over the phone and putting a plan together. Natasha designed an illustration of my pet dog, Skye and added this to my invites.. such a beautiful touch! I was blown away when they arrived ?? even better than I could have ever imagined ? Thank you Natasha!"
"Natasha did an incredible job with our Save the Dates and Wedding invitations. She was so easy to work with and welcomed all our ideas - nothing was too difficult for Natasha! Natasha was so easy to communicate with and kept us in the loop constantly. We originally sent her a drawing which she then turned into our Save the Date designs and it looked amazing, we then expanded that to our main invitations, and we are delighted with the outcome! We've had so many compliments already on the invitation and so many saying that they are too pretty to open! I'd highly recommend Natasha, I'm sure she could turn any idea into a work of art!"
"Natasha is incredibly talented and designed the most beautiful envelopes for our wedding invitations! From the moment I messaged Natasha she was so lovely and created a design that worked perfectly for us. She was brilliant at replying to emails and keeping us informed. Nearly every one of our guests messaged us to say how beautiful the envelopes were - Natasha has set the bar high for the rest of our wedding decorations and stationery! Can't recommend Mama Inc. Studio enough!"
Take a look around my home studio and see what I get up to on a daily basis!