Tell me your love story
I love to hear about the journey of others and how they came to meet. I create unique and personalised invitations that tell your love story through art. Invitations are the first glimpse to your wedding aesthetic and I believe your stationery should reflect who you are as a couple and mark your journey with memorable designs you and your guests can thoroughly enjoy and cherish for a lifetime.
By working with me, not only will you receive free consultations but you are investing in a partnership. We will collaborate on everything from start to finish with digital concepts, proofs, regular check-ins and generally adding unique finishing touches which are reflective of you. No two weddings are the same and by working with me, I can guarantee you will have a unique experience and  truly bespoke invitations which haven't been seen anywhere else.
If you'd like to arrange a chat with me or a receive a tailored quote please get in touch.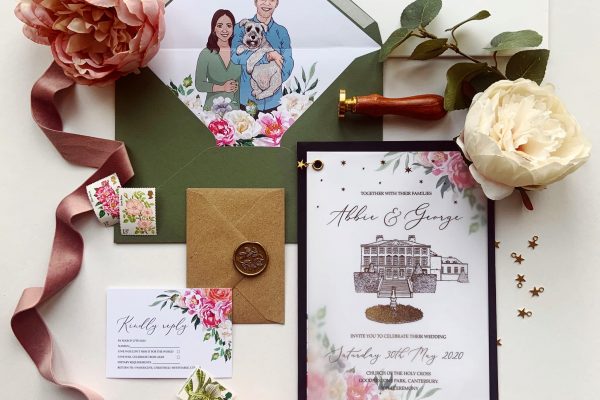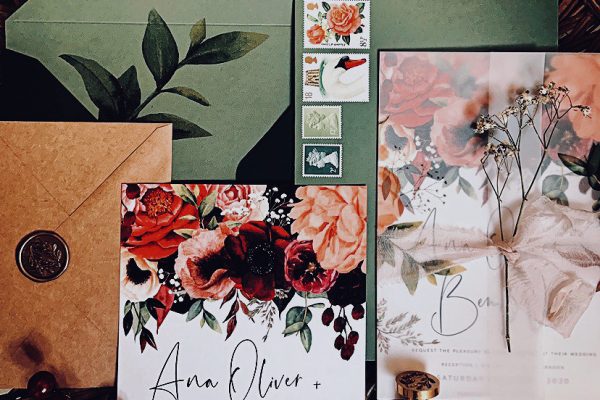 Complete our Bespoke Enquiry Form or Book a Telephone Consultation.
Natasha will get back to you via email within 2 working days or return your scheduled call.
Once your quote has been finalised and you are happy to proceed, an invoice is sent out which requires a 50% deposit to begin the design process.
Natasha will set you up via the Trello App which is a private, collaborative board which enables you to upload wording, imagery and all other relevant information for your stationery.
On the board, you will receive a sketched, digital concept of the design layout.
Once approved, Natasha will work on the design and upload up to 3 proofs to allow for amendments.
Final 50% payment is required and all artwork is sent to print. Expect 10 working days to receive your order once sent out to print.
You may also be interested in
Calligraphy
From invitations to favour place settins, Calligraphy is a great way to make wedding paper look luxe and elegant. Envelopes are traditional addressed by hand but now with modern printing techniques, envelopes can also be digitally addressed using the same fonts as your invitations. Expect to pay £3 per envelopes for calligraphy and £2.50 per digital printed envelope.
Vintage Stamps
Vintage postage stamps are a fantastic way of personalising your envelopes and a fun way of bringing your personality forward to your invitations. Choose from a wide mix of colours and patterns to match your theme. They are unused so are ideal for posting out right away. Prices vary upon stamp value.